Mundi Project is offering pay-what-you-can ZOOM classes this Fall!
Taught by our experienced teaching artists, learners of all ages and levels can sign up for a variety of topics including classical guitar, piano, and voice.
Join a class and interact in a virtual setting with the instructor and fellow classmates to create a musical community with like-minded individuals!
13-week Fall 2021 Session
Classes Start: September 13th
Classes End: December 17th
Fall 2021 Class Schedule
COVID-19 Policies & Procedures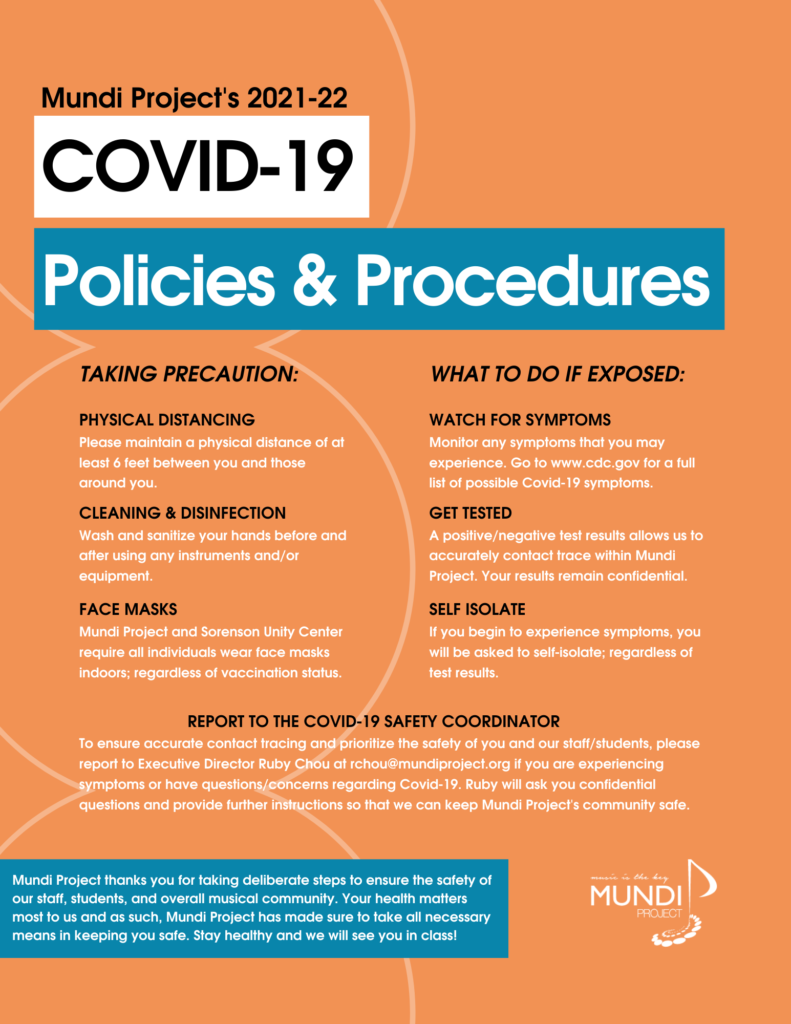 Updated August 5th, 2021
Tuition & Instrument Assistance
Pay-What-You-Can Tuition Assistance Scale
Mundi Project Zoom Classes do not require tuition. However, in order to provide access to all in our community, Mundi Project has developed a Pay-What-You-Can Tuition Scale for our Zoom Classes. Below, you will be able to enter your own tuition based on what you can afford and are willing to pay.
$260 is the full cost value of a 13-week zoom class. While we are making every effort to offer a low-cost option for low-income learners, hiring well-qualified teaching artists, and administrating the class comes with its own set of expenses to the organization. The tuition dollars will help us continue to offer these classes to all in our community.
The classes provided at Sorenson Unity Center do not require tuition. However, a donation to Mundi Project and Utah Classical Guitar of any amount is greatly appreciated. In place of Zoom Tuition dollars, you may make a donation instead. Donations will help us continue to offer these classes to all in our community.
Instrument Assistance
Classical Guitar– A staff/board member of Utah Classical Guitar will reach out to you about a guitar and/or footstool loan.
Piano (Keyboard)– For those who need help purchasing an instrument of their own, Mundi Project will purchase a digital keyboard for students. Students must agree to the instrument usage and care policy prior to receiving an instrument. Once your registration is processed, we will order the instrument from Amazon Smile and ship it directly to you.
Classical Guitar
Through Mundi Project's partnership with Utah Classical Guitar we are able to offer classical guitar classes for beginner, amateur, and experienced players! Taught by Teaching Artists Gabino Flores and Soren Green (not pictured) learners will gain or improve their understanding of music theory, technique, and ensemble playing. 
Piano

Teaching Artist Josh Marchant continues with piano classes on Zoom this fall!
Youth Classes: This course is created for independent kids that are motivated to learn the piano! We will cover beginning concepts, including music theory, rhythm and note-reading, to work towards playing pieces on the piano. Students will not only build their musical knowledge but gain skills in practicing. Access to a piano during meetings is necessary. Students are encouraged and welcome to share their home progress with the class! We will learn and reinforce concepts in an interactive way with games, listening activities, and free computer/smartphone applications that allow students to work at their unique level.
Adult Classes: From your home, you can engage with your community, build relationships, and gain skills to play the piano! This course is designed for adult learners new (or returning) to the piano. We will cover basic skills in rhythm and learn to read the treble clef and bass clef. We will work on basic harmonic skills, keyboard skills, improvisation and sight-reading. Students build their skills through weekly home practice assignments and free internet resources. This course also includes a weekly music appreciation component. We explore music compositions from every continent to learn to identify concepts aurally. Spend time with others that share the wish to learn piano and make that wish come true!
Voice
Teaching Artist Ali Ryan is excited to be teaching voice this spring! Sign up for a class learning how to sing your favorite songs through games, warm-ups, lessons, and performance! In this class, Ms. Ryan will go over what it means to use your body as an instrument and how you can keep this instrument sounding the best it can; all while singing your heart out. Join Ms. Ryan in transforming your home into a stage.