Concert from the Couch Countdown!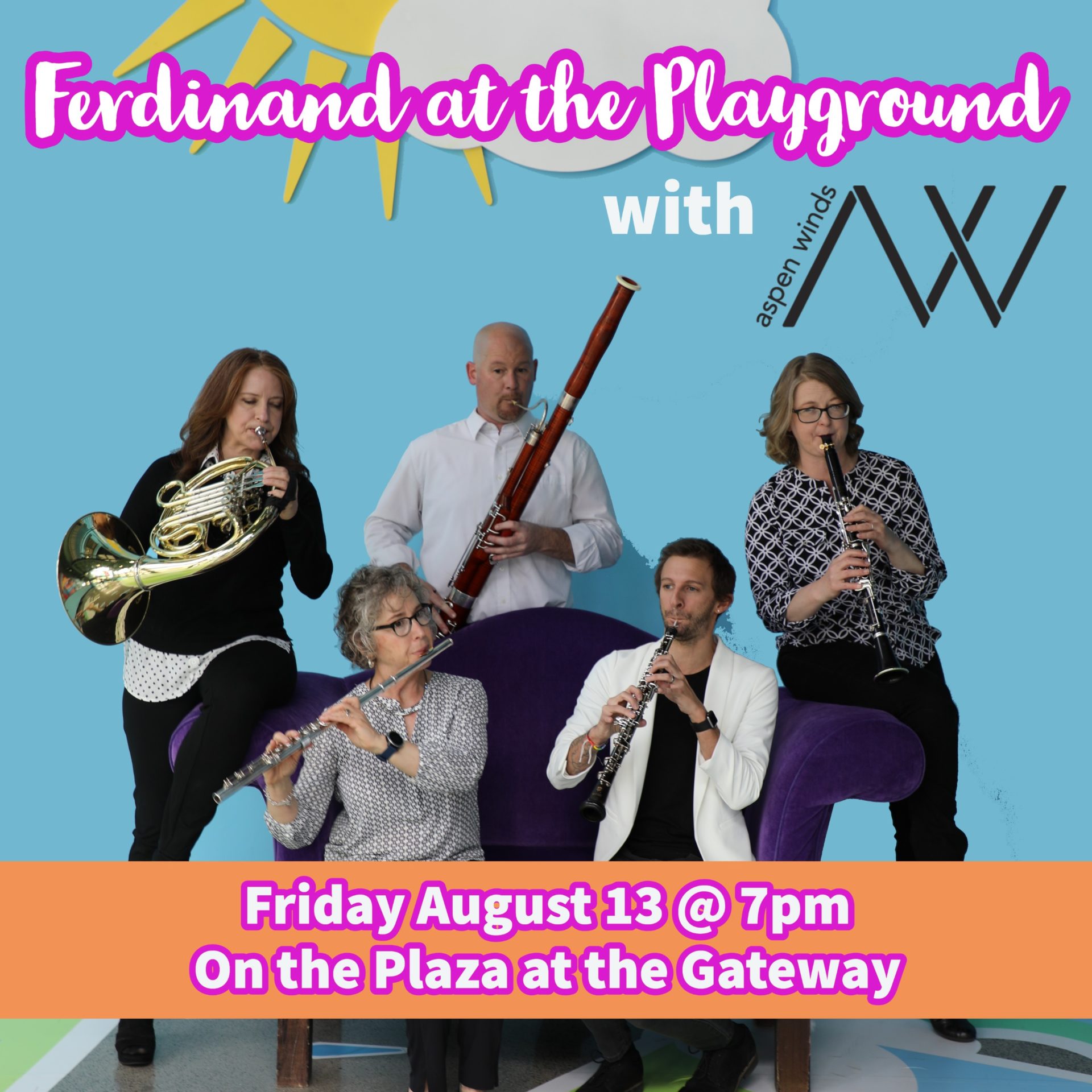 N

EXT UP:
'

FERDINAND AT THE PLAYGROUND' WITH ASPEN WINDS
Friday, August 13th @ 7:00 pm 
On the Plaza at the Gateway
This safe and socially distanced outdoor concert features local musicians! Tickets are $5 per person or $20 per family (up to 8 people from the same household). All tickets purchased directly support Mundi Project programming!
Aspen Winds presents Munro Leaf's classic tale of "Ferdinand the Bull" where the five woodwind quintet members represent different characters from the story. Can a bassoon really sound like a bull? A horn plays the matador? And the overprotective mother cow sounds like an oboe? Other antics ensue during local Utah composer Marden Pond's recent composition "Playground". Come hear his sonic interpretation of cloud gazing, slides, and seesaws.
Having started as a virtual concert series, with 9 concerts direct from artists' homes during the pandemic, our "Concert from the Couch" series is now going in-person! We have plenty of room to spread out, so bring a blanket for your family. Masks are not required but they are encouraged for everyone 2 and up who is unvaccinated. No food or drink is allowed.
About Mundi Project & Discovery Gateway Children's Museum
Mundi Project has worked to break down socioeconomic and generational barriers by providing quality music experiences for all since 2006 (www.mundiproject.org). Discovery Gateway has been inspiring children of all ages and abilities to imagine, discover, and connect to their world to make a difference since 1978 (www.discoverygateway.org).
About Aspen Winds! 
Aspen Winds is a talented and innovative classical woodwind quintet dedicated to educating and inspiring through entertaining programming. All five musicians of Aspen Winds are outstanding performers and educators with a special interest in reaching out to children, families and underserved communities. Additionally, members of Aspen Winds are on faculty at several Utah universities, including Utah Valley University, Snow College and Westminster College, as well as robust private teaching studios. Follow them on Facebook: www.facebook.com/TheAspenWinds
Sally Humpherys, flute
Luca de la Florin, oboe
Robert Bedont, bassoon
Amy Gabbitas, clarinet
Anita Miller, horn
Featured in Salt Lake City Weekly!
"The Mundi Project has been keeping plenty busy this summer as they work to keep young music-learners busy and enthused by music. This summer has also featured them teaming up with Discovery Gateway to present their interactive virtual streaming series Concerts on the Couch. While many live streams in the music world are adult-focused, this is one opportunity to shake up what kind of entertainment your kid is used to, or maybe even bored with, at this point in the summer." [Continue Reading]
Past Family-Friendly Shows