Intergenerational Music Program
A Lifelong Learning Collaboration with Neighborhood House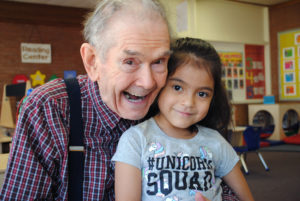 The purpose of this learning initiative in Salt Lake City is to encourage youth and seniors to make music together while fostering meaningful connections and social empathy. Through research in psychology, gerontology, and arts education, we are accruing data on people reporting improved psychosocial well-being, increased self-esteem, reduction of ageism stigmas, and decreased social isolation through their participation in intergenerational programs. Mundi Project is proud to contribute to this line of research and viable learning paradigm and programming in our community.
The preschoolers and seniors at Neighborhood House will interact through singing and songwriting once a week with Mundi Project teaching artist Mindy Dillard. They will learn new skills together, they will share stories with each other. Together, they will make music and the seniors will be less lonely.
All are welcome to our intergenerational music celebration on Wednesday, December 18th @ 11AM at Neighborhood House where the kidfriends and grandfriends will present the songs they wrote together!
Does intergenerational learning resonate with you? Please support our impactful initiative!
Our executive director spoke at TEDxSaltLakeCity 2019 about what intergenerational learning looks like, how it impacted her path, and how Mundi Project is bringing the concept to the community. Watch her story here!