Help us reach our donation goal of $10,000!
Celebrate with us! Mundi Project is proud to be in its 15th year of making a difference in our community through music. Will you help us continue our work of breaking down socioeconomic and generational barriers through quality music experiences? 
Thanks to the support of Salt Lake City Arts Council and Utah Division of Arts & Museums, we have a $5,000 matching fund for gifts received through December 15th. This means your donation today will have twice the impact!
Program Highlights & Community Stories
September 29, 2021
Mundi Project started our education arm (Harmony Hub) in 2015 at Sorenson Unity Center with piano classes. In 2017, we partnered with Utah Classical Guitar to offer another instrument option! Teaching Artist Soren Green has been with us for several years now and is teaching classical guitar on Zoom this Fall semester for youth and adults.
Fast forward to 2020: Even with all our society was navigating, we were able to continue providing quality music experiences for many from the safety of their own homes. We offered a total of 27 classes for 96 youth and 66 adult learners! Learners had the option of ukulele classes in addition to piano and classical guitar.
At the beginning of this year, we started offering voice lessons with Teaching Artist Alexandra Ryan! Come learn with us!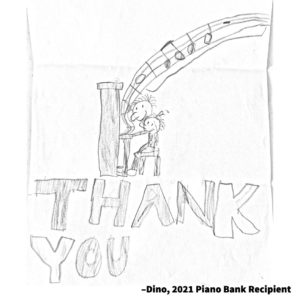 September 22, 2021
Mundi Project has grown and changed over the last fifteen years. Since 2006, Piano Bank has placed 257 pianos throughout Utah! 
In 2021 alone, Mundi Project placed 11 pianos with individuals, families and public spaces throughout Salt Lake and Davis Counties. We are proud that the communities served by Salt Lake Academy of Music, TURN Community Services, Pamela's Place, Kearns Library, and Utah Arts Alliance have access to a quality piano to make music!
Donation Updates and Donor Appreciation
September 29, 2021
This week, we are at $1,375 of the $5,000 we are aiming for! Thank you to our continuing AND new supporters!
Emmanuel Santa-Martínez
Christina Coonradt
Carla Coonradt
Winnie Chou
Jennifer Chou
Christopher Ball
We are so proud to have your support as we push forth in our work of supporting a community of learners– young and old!
September 22, 2021
This week, you've helped us raise $890. Thank you for your generosity! We would especially like to highlight the following people for their contributions:
Darcy Douglas
Ruby Chou
Cody Goetz
Adriana Soto-Callahan
David L. and Kerry Ellen Carlson
Your donation helps break down socioeconomic and generational barriers through quality music experiences. Join the campaign today to make a difference in our community.